CHICAGO CLUB DOOR BUNNY OPENING 1960 & PLAYMATE JUNE 1960
Name: DELORES WELLS
Email: explayboybunnies11@yahoo.com
Date: 2nd October 2002
Time: 16:57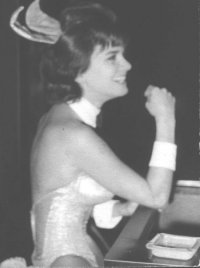 Bunny Delores
Message
Would like to hear from Bunnies and Playmates from 1960 if there are any still kicking.
I just got my Medicare card which makes me one of the oldest Bunnies around and I sure could use some moral support from my old friends like Bonnie Halpin, Connie Snow, Kitty Kavaney, Kelly Collins, Sherry Sweet and anyone who wants to write.
I live in Phoenix and if any of you are here, please get in touch through this website. Thanks, Delores.